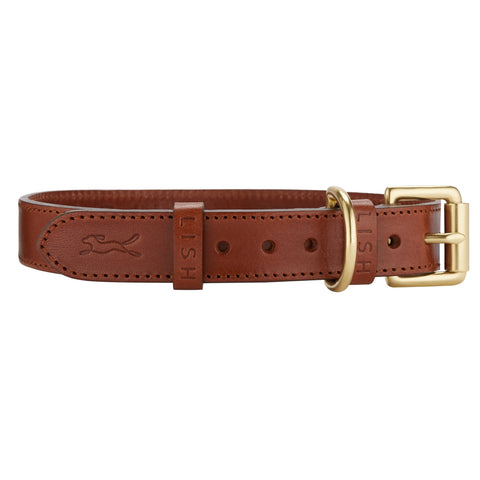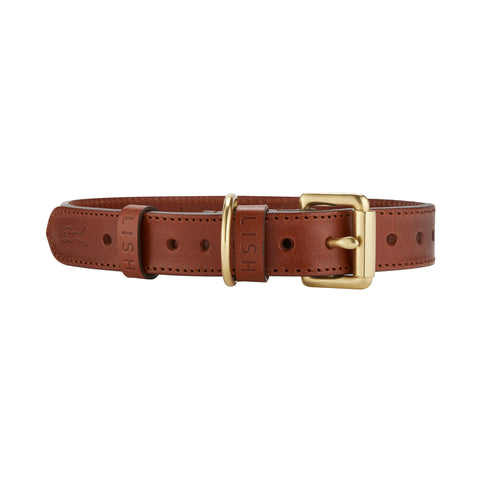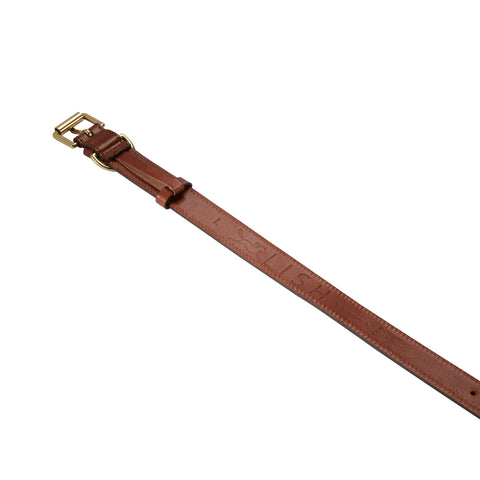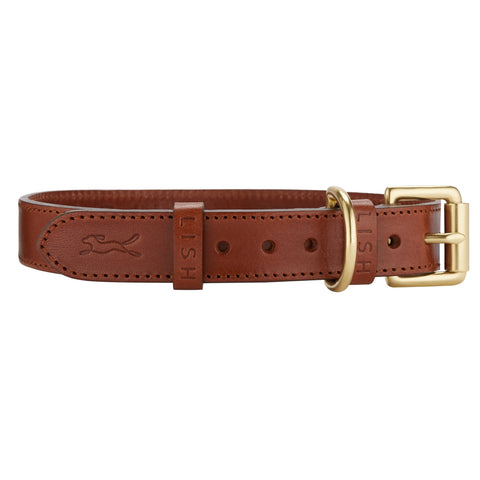 Countless hours go into hand-crafting each Coopers Toffee Brown designer dog collar from the finest Italian Leather and hand-crafted in the UK. The difference is in the details, from sturdy solid brass fittings, an extra loop to keep the leather tip flat and neat and the new LISH imprint – the hallmark of quality and luxury. The Coopers Toffee Brown Leather dog collar is designed by our Creative Director Lilly Shahravesh and cut by skilled British saddle makers.
Hand-crafted in England
Supple Italian Leather
Vegetable tanned eco leather
Solid brass fittings
Extendable loop for collar tip
Exclusive LISH design
Add the matching lead to your cart here.
Find out more about our chemical free dog collars here. Our leathers are dyed using natural vegetable dyes so the colour of your Lead & Collar will fade and develop its own patina. Please note some vegetable dyed leathers can release colour on to your dog's neck.
DELIVERY & RETURNS

Orders received Friday afternoon, during the weekend or on a Bank Holiday will be processed the following working day.
ADDITIONAL INFORMATION
The Coopers Toffee Brown designer Dog Collars are strong enough to last a lifetime and yet soft and supple so it's gentle on your dog's neck. An icon of understated design each one is hand cut and finished by traditional British saddle-makers.
Easy to clean designer dog collar
Occasionally it may need a clean - after all, dogs do like to roll in some unspeakable things! When that happens, just give it a wipe over with a damp cloth once the mud has dried, and over time the leather ages with its own beautiful patina.
Eco Vegetable Dyed Leather That Develops Its Own Patina
The quality of vegetable tanned leather develops its own patina over time as it ages and retains many of its natural characteristics. We hope that you will appreciate any slight variations in the thickness, colour and texture of your eco leather product as a sign of its authenticity.
Adjustable dog collar - in a range of sizes
Each Coopers Toffee Brown designer leather dog collar has a range of holes to ensure the most comfortable fit for your dog. We offer a range of sizes of collar to suit every breed from teacup Chihuahua to Labrador. Please take a look at the size guide to get the best size for your dog. It's always best to measure your dog's actual neck.
Matching Accessories
The Coopers Toffee Brown designer dog collar looks especially good teamed with the matching leather dog lead, and the Chestnut Brown Cable Dog Sweater. 
Exclusive to LISH the Coopers Toffee Brown Designer dog collar
Like all our designer dogwear, the Coopers Toffee Brown designer dog collar is exclusive to LISH the personal designer label of Lilly Shahravesh. 
REVIEWS